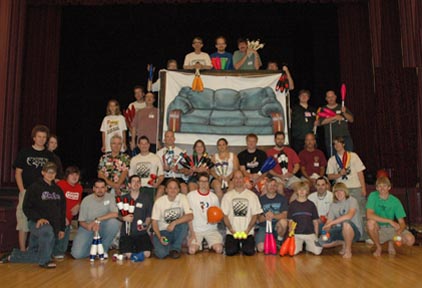 -download large-dsc0022.JPG
Hey! Thanks for coming! A Great time was had by all!
See More PHOTOS More added each day!
2005 FLATLAND JUGGLING FESTIVAL
JUNE 24-26 (Fri, Sat, Sun), 2005 - LINCOLN, NEBRASKA
Friday, June 24


5 pm-11:00 pm -- registration, open juggling, t-shirt sales
University of Nebraska
Student Union Ballroom
At 7:30 we move downstairs for the Pizza Juggling Party.

Second Floor-Ballroom
(nicely air-conditioned for your juggling comfort)
UNL Downtown Student Union
14th and R

7:30 pm - 11:00pm-- Pizza Party and Open Juggling
on Main Floor of Student Union
UNL Downtown Student Union

Main Floor
(nicely air-conditioned for your juggling comfort)
UNL Downtown Student Union
14th and R

After dark - Possible fire juggling by the Brohil Fountain outside of the Student Union (this will depend on the weather and interest)


Brohil Fountain
Outside North door
UNL Downtown Student Union
14th and R

Saturday, June 25



9 am - 6 pm -- Open juggling, registration, t-shirt sales, games, workshops
Ballroom UNL Downtown Student Union


Second Floor-Ballroom
(nicely air-conditioned for your juggling comfort)
UNL Downtown Student Union
14th and R

10 am - Three Clubs Workshop (Matt Hall)

11 am - Five Balls Workshop (Matt Hall)

1:45 pm - The Great Juggling Toss-Up
(just outside North door at the Brohil Fountain.) MAP Pictures will be taken.

Starting at 2 pm - return to the Ballroom for the Jugging games:

Games will include Most Three Ball Tricks, Passing Pairs Marathon (7, 8, 9? clubs), 5 Ball Marathon, Quarters, Dollars, Diabolo Accuracy, Combat, and others.

(Quarters and silver dollars available at registration table)

Workshops TBA (Look for Matt Hall to host a few)

7 pm -9 pm -- Zee Incredible Public Show
It's Free! but we'll bashfully accept donations.

emcee: Mark Hayward!!!
featuring: Matt Hall!!!

Second Floor-Ballroom
(nicely air-conditioned for your juggling comfort)
UNL Downtown Student Union
14th and R

(we'll have seats brought in just for you.)

9 pm - ? -- House Party

10:30 drawing thingie

Elevenish - Renegade!


Maps at Festival

Sunday, June 26

10 am - 3 pm – Open Juggling
Ballroom

Second Floor-Ballroom


(nicely air-conditioned for your juggling comfort)


UNL Downtown Student Union
14th and R
Here's a link that lets you look around Lincoln, Nebraska and the UNL campus, including the Student Union and the Boyhil Fountain. LINK Also here is UNL's main link UNL.
Broyhil pic . Union green space pic
Student Union Ballroom (2nd floor)
The main location will be near 14th and 'R' Street. Parking is in front on the street or behind from 16th and 'S' Street.
Friday party on main floor of Student Union (7:30 PM)
Plans are for a Valentinos Pizza Party right there while we juggle
Saturday Public Show see public show page
The show will be on the Ballroom stag. The show's emcee this year is Mark Hayward and the featured performed will be Matt Hall.
Please contact Mark before or at the festival if you would like to perform in the show. See Mark's contact page at markhayward.net.
*
'CONTACT'
For further information about the festival
Rick Prevett (402) 476-0715 or Jim Brennan (402) 421-3143
Lincoln City Jugglers (Lincoln NE's Juggling Club)
UNL Juggling Club (University of Nebraska Juggling Club)
*
'LODGING'
Jugglers' Discount!!! Holiday Inn Express 5 minutes away!
$59 a nite, m ake resevation before June 10th
- see motels -
Legal Disclaimers
Juggling is an inherently risky business. Participants in all Flatland Festival activities assume all risks and waive all rights to compensatory damages from any sponsoring party. Neither the NU Juggling Club, nor the Lincoln City Jugglers, nor the umbrella organization, I Think It Rolled Under the Couch: A Nebraska Juggling Club, (hereinafter Host Clubs) nor any individual club member or associate or family, friend, heir, assign or dog is responsible for any injuries sustained while wielding any sharp or any blunt object or objects and attempting to show off or perform in any way with said objects. Torches, unicycles, knives, bowling balls and other items that may be thrown or waved or rolled or lit on fire are specifically included among the hazards that participants may face and for which injuries sustained by which the Host Club disclaims any liability. Other hazards may include, but are not limited to: injuries sustained while trying to do an impossible stunt of the likes of jumping rope while riding a giraffe unicycle and playing harmonica; the derailing of political aspirations of participants who believe that a funky hat and shades ensure anonymity in a Club Renegade act; gout from overindulging in rich food; a hangover from abundant alcohol; blisters, burns or abrasions from passing clubs; tattoos of uncertain provenance; concussions or any other effects from games with the names of Combat and Joggling; uncomfortable lodging, whether paid or gratis; collisions on Lincoln streets that are bi- or uni-directional at different times of the day; collisions that occur due to inaccurate directions or poorly drawn maps; damages sustained by a vehicle driven through potholes; a very bad haircut, patently ridiculous shoes, etc. Anyone who claims to suffer any of these injuries, whether real or imagined, is a fool who gets what he deserves. Moreover, any participant who believes that the deep pockets of Host Clubs can be tapped in a frivolous lawsuit stemming from acts for which participant has assumed full responsibility merely by attending the festival is clearly delusional and should consider asking to emcee Club Renegade.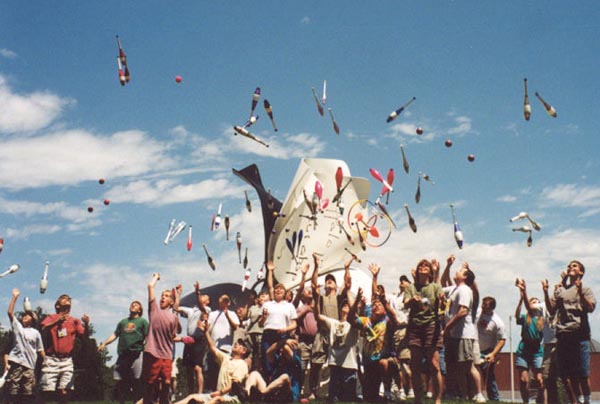 Photo by Steve Hutchinson