Juggling Meetings
(For both Lincoln City Jugglers and UNL Juggling Club)
---Nothing formal just juggling.---
It's October!
Wednesdays &
possibly Sundays
Beginning WEDNESDAY, October 18, 2017
WE're Moving INSIDE!
O T H M E R * A T R I U M
Wednesdays & possibly Sundays
We

(the UNL Juggling Club & Lincoln City Jugglers)

begin our meetings inside at the UNL Othmer Bulding (16th & Vine)
Look for us through the West glass doors.

(or outside if it's nice!)
See Building Photo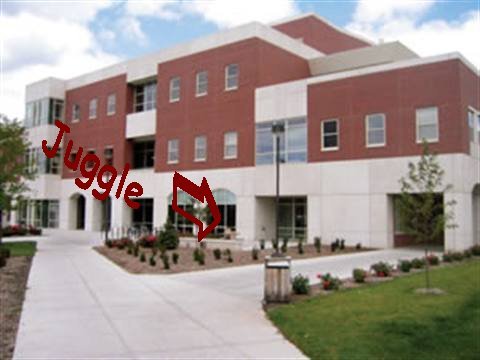 West Side
Address = 820 North 16th Street, Lincoln, NE 68588
See East Side Photo Here

Stop by when you can. Juggling props are available !
Check our Facebook page for updates.