Photos of Steve Rahn Through the Years
(MAIN)
Steve Rahn visited several juggling festivals
Many of which were the Flatland Festivals in Nebraska
In Fact Steve attended more Flatland Festivals than most Nebraskans.
Photos start in 2001 and also include other festivals he attended.
Some Photos are linked to their original or a larger copy.

Clicking the linked original can be copied with 'right click', 'Save Image as'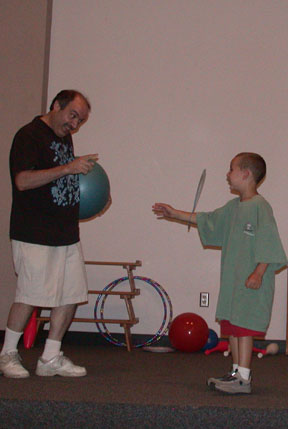 Steve Rahn performing at the 2003 Flatland Juggling Show
Here he works with audience volunteer, Zachery.
This fall, Zachery enters as a Freshman for the
University of Nebraska at Lincoln in 2015!

Photos of Steve Rahn Through the Years

Click 'NEXT' for more photos